Horror Will Never
Be the Same Again ...
After This Film

Gothic Pictures International's latest film, Darkest Night, combines western demons with
eastern traditions. The result? A dramatic & horrific ghost story to make everyone scream!

Directed by Noel Tan & Written by Russ Williams

The Story: A Family Faces Deadly Horrors of the Unknown
GPI is proud to announce the U.S./Canadian theatrical, VOD & DVD release of Darkest Night during July 2013 by Maxim Media International. We are also happy that the film screened at the FACINE Filipino-American film festival in San Francisco on October 20, 2012, to great critical acclaim. For details, click here.
Shown below, right, is Maxim's official DVD cover for Darkest Night.
Darkest Night Synopsis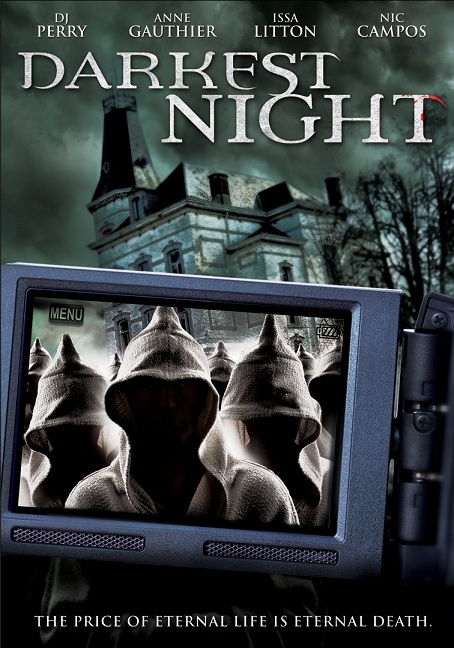 On December 25, 2003, an upscale Filipino family gathers at a remote place in the mountains for a Christmas Day reunion dinner. It's a happy occasion where the main character, Susan announces her marriage engagement to her boyfriend, Ken, whom she brought with her.
Suddenly, the group is cut off from civilization and plunged into darkness by forces that defy natural laws and shut down all types of modern technology. One by one, the family members die or disappear in weird and horrific ways. The few who are left, including Susan, struggle for survival and against family conflicts and demonic forces, to find out what's "out there" and what is happening.
Finally, Susan and the few left alive must understand the cult writings in an old book, to prevail against demonic forces that threaten to consume them all. They have to understand and overcome a dark, pagan religion and the need for exorcism, as well as family secrets, in order to survive. The alternative is life in a hellish "heaven" more terrifying than death.
Suspense and mystery keep you unsettled and guessing till the very end, when the fate and outcome of all is finally revealed. This is a psychological horror film with intense Gothic family drama, suspense, action, and terror. It contains a minimum of gore, violence, and graphic special effects. There are no cliché or oft-used thrill gimmicks. The viewer is led step by step into a dark world of sinister and fantastical events, where the familiar meets the magical, and your most cherished loved one could be your mortal enemy.
The film is presented as a "docu-drama" by a television announcer, Danny Valencia, produced from videotape he discovered in 2010 at the ruins of Espino house. This place is now considered an unsolved crime scene in the Philippine Sagada Mountains. There is some news footage and a dramatization at the beginning, but most of the film is the main story, told in the "found-footage" format.
On the surface, Darkest Night is an entertaining and truly scary thriller. However, for those who want to probe deeper, the story has multiple layers of characterization and thematic depth, including commentary on modern "advanced" society and technology, as well as its impact on our closest family ties.
For more information about Darkest Night, feel free to visit the film's official website. It provides a wealth of information on Darkest Night, including revealing photos, interviews, all the rundown on the actors, the real story behind the film, how the film got to be made, tales of behind-the-scenes fun and more.
Check out our Darkest Night pages on Facebook and IMDb!
Darkest Night
Achieves Stunning Success at FACINE Film Fest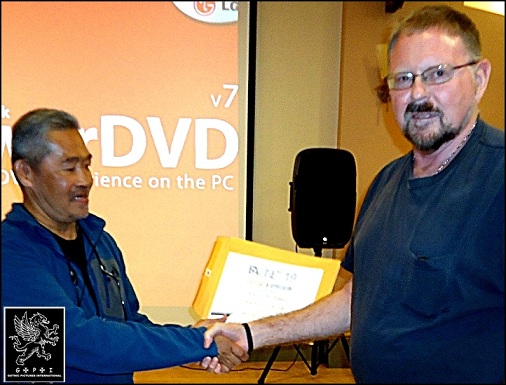 SAN FRANCISCO – Gothic Pictures International is happy to announce that our latest film, Darkest Night was critically acclaimed at its U.S. premiere. The 19th annual Filipino Arts and Cinema International Film Festival (FACINE) awarded Darkest Night its Valuable Contribution Certificate during its film festival here on October 20, 2012.
Darkest Night is a horror film that combines intense family and Gothic drama with lots of suspense and scares. It had its international premiere in Manila, Philippines late in 2011. The exhibition at FACINE was its first public U.S. screening.
"The film was an instant hit at the FACINE festival," Williams said. "The critics in the audience loved it."
Darkest Night is one hell of a film!" said Filipino-American director William T. Jones, who was in attendance during the screening.
"So proud to have premiered your film in the U.S. Awesome experience!" said Dr. Mauro Tumbocon Jr., the festival director.
Photo: Russ Williams (left) at the FACINE Film Festival in San Francisco in October 2012 with Dr. Mauro Tumbocon Jr. (festival director). The film was VERY well received. It was a great time!
Courtesy of Maxim Media International Darkest Night had a limited theatrical run in the U.S. during July 2013, culminating with its release on VOD and DVD during the same month, according to Williams. Maxim Media is an American film distributor in Arizona, which specializes in releasing quality horror films.
According to Williams, the film was released in Germany, Austria and Switzerland at the end of 2013. Negotiations are currently under way for release in other countries. Additional announcements will be made later, as other countries are added to Darkest Night's release list.
Williams added that congratulations should not only go to him but to all members of the cast and crew who have made Darkest Night an unqualified success, including the film's star, the Michigan-based actor DJ Perry.
The FACINE festival is open to all media artists of Filipino ancestry. Any number of entries may be submitted, regardless of genre, subject or format. Also, non-Filipino filmmakers may submit works based on Filipino or Filipino-American subjects. FACINE is a US nonprofit organization that aims to promote and develop Filipino-American cinema. The festival is an important showcase of independent films and videos by Filipino-American and related media artists.
Darkest Night has an almost all-Filipino cast and crew. It was filmed on location in Manila and Floridablanca, Pampanga, Philippines.
We will have more news about this exciting film on this site, as it happens, so please check back with us. Also, whenever you want, please visit the Darkest Night Facebook page and Official Website as well.
Making the Film: Blending Malaysia, America & the Philippines
Written by the U.S. screenwriter, Russ Williams, Darkest Night had its roots in horror ideas from several traditions. Inspired for the style and mood of the script by the 2001 Japanese film, The Pulse, directed by Kiyoshi Kurosawa (b. 1955) and the 2006 Anglo-Spanish Bulgarian film, The Abandoned, directed by Nacho Cerdà (Spanish, b. 1969), Williams sought to blend thoughts from east and west, including Spanish mysticism, Russian spiritualism, and Japanese neo-existentialism. Throw in lots of French occult beliefs, creeping modern disillusionment with technology, and current worries about the demise of family bonds. You come up with a fascinating story of ancient black magic and intra-family betrayal.
"I wanted to show how forces in modern society and technology are slowly corrupting even the closest of family relationships." Williams said about the film. "In the story, black magic becomes a symbol of the modern individual's obsession with control. It's at this point that the worship of technology and material things along with the crumbling of relationships all meet and cause corruption. In both the east and west, this kind of modernism breeds a self-centeredness that is the mortal enemy of real love, whether family or any other kind."
Revealing a Malaysian 'Urban Legend'
There may also be a tie-in with real life as well. Williams came across the film's basic premise by accident, shortly after he moved to Malaysia. He heard some fascinating rumors about an actual crime that occurred in 2003 in the Malaysian Cameron Heights. A Chinese family simply disappeared on the night of a festival New Year celebration. According to unverified stories (but interesting nonetheless!), news of the incident was covered up by the government to avoid hurting tourism, and possibly for other reasons not revealed. As a result, the crime was never solved.
"I don't make any claims about the truth of rumors," Williams said. "Still, the minute I heard the story, my imagination switched on. I was spellbound by its implications and wanted to turn it into a movie. However, government media censorship made it impossible to film the screenplay in Malaysia, for a variety of reasons. So, I looked around nearby and found Noel (Noel Tan, the film's director) and the Philippines. He's a great guy and excellent director, and we became friends. So it didn't take too much of a stretch to move the story from the mountains of Malaysia to highlands from another country nearby and change a Chinese family to Filipino."
Williams has lived in Petaling Jaya, Malaysia (near Kuala Lumpur) for the past year and a half after residing in the Los Angeles area for the previous 20 years. He has had one screenplay, The Last Year (2002), turned into a film and has worked on producing several other films. According to him, living in Asia has given him a new perspective on eastern thought and culture, as well as how it relates to the west.
"There is a great difference between the two, but they are also alike in the most basic ways," he said. "Human thoughts and emotions are essentially universal, and in the final mix, labels like "eastern" or "western," Chinese, Malaysian, American or Filipino mean nothing. If a story is good, it will be universal. As for east and west, the two cultures have a lot to learn from each other, especially the west. As a westerner and American, I am continually struck by how much more Asians know about us than the other way around."
How Darkest Night Came About
As related earlier, Darkest Night was directed by the Filipino director, Noel Tan. Having had 20 years of experience in film and video, he has lived in the Philippines for all of his life. Also having worked in several other countries in Southeast Asia, Tan directed television drama for two years, as well as other types of dramatic media.
"I was really excited about directing this film," Tan said of the production. "I was drawn to the script, not only because it's a terrific horror film, but because it has a lot of human drama too. The family relationships and conflicts in the story are very real."
"I love horror films, but my heart is really in filming realistic human drama," Tan continued. "This film has suspense, scares and shocking moments, but it also has real people in real family situations. Letting an audience see characters on screen in such depth make them really care about what happens to them. That way, they're drawn into the story in a special way and feel the emotions even more."
The film came about as a collaboration between GPI in the Philippines and Collective Development, Inc., in the U.S. owned by Perry and business partner Jeff Kennedy. The goal was simple – to create a hybrid horror film that would appeal to both eastern and western markets while not losing the edge that makes Asian horror unique. This international film is already creating a splash in the Asian media with Perry being among the first American stars to film in the Philippines with a local film company.
GPI is managed by American writer/producer Russ Williams, a long-time resident of Malaysia, and director Noel Tan best known for his early documentary work with Filipino boxing legend Manny Pacquiao. Darkest Night includes various Asian talents from the stage and screen. Founded in 2010 by a group of dedicated filmmakers from Asia and the U.S., GPI chose as its primary mission to produce and encourage quality, international Gothic and horror films in an Asian setting or with Asian ties. Our filmmakers seek to make excellent films in these genres and to promote other Asian filmmakers who wish to make new, cutting-edge Gothic-dramatic, horror and related films. The company's primary goal is to create productions with intense drama, compelling stories and real, believable characters.
The Story Behind Darkest Night and More
Darkest Night unfolds in a "found video and documentary" style. Its story plops American Perry right in the middle to allow western audiences to experience a "holiday" trip away from home. Eastern audiences will identify with the many vivid Asian characters, as well as the local and family setting. Perry's character in the film, Ken Tyler, is introduced to the traditional Filipino family of his fiancé, Susan Reyes, played by Gauthier, during a Christmas Day family reunion. What follows is a dark, horrific trip not to be missed, as demonic forces come into play. Darkest Night combines western demons with eastern spiritual traditions to come up with an original recipe for suspense and terror.
There is more information on our upcoming film, The Beast, on this site. Also, you can click here for more information on our upcoming films and other planned future projects for 2014 and beyond.